MAKE A SPLASH! The 2023 Annual Fund
Jumping into a pool, a lake, or the ocean, creates a beautiful ripple effect. The same is true when we work together to support the Y. As a not-for-profit since 1956, the Boothbay Region YMCA is focused on serving the ever-changing needs of our community. Whether it's providing a location for a vaccine clinic, hosting swim meets, or most recently, housing the local third-grade class, the Y is here for one and all and the impact can be felt by everyone.
The Y is a community family and our family is ALL IN for the Y. We hope you are too!
That is why we invite you to join us by making a big splash and giving back to our Y this year. Your support of the 2023 Annual Fund directly helps others in our community and it is one of the ways you can partner with the Y to foster a collective positive impact.
MAKE AN IMPACT!
2023 is unique as it is the final year of the A Greater Impact capital campaign. Donors to the campaign so far have been supporting capital improvements and the endowment. We hope you are as proud of what the Y provides and how it looks and feels as we are. It's a special organization for us and for our community.
The fundraising for the campaign is not yet finished and the Y seeks pledges to complete the fundraising for the main facility and to renovate the Child Enrichment Center and the main lodge at Camp Knickerbocker. The focus is on refreshing spaces that match the excellent childcare and summer camp programs we know and love. These investments will expand the need for childcare and support working families in the region.
MAKE A SPLASH AND MAKE AN IMPACT!
The 2023 Annual Fund and the A Greater Impact campaign initiatives both benefit those in our community today and those who will come along in the future. Our investment now will steward the Y's mission for the long-term and we hope that resonates with you.
Today, we are respectfully asking you to consider two pledges: one for the Annual Fund and one for the A Greater Impact campaign. Both can be paid out over one to five years and both will impact our community.
We will recognize donors to the A Greater Impact campaign prominently in the lobby and will note Annual Fund donors in our Annual Report. Of course, we will honor your wish if you choose to remain anonymous.
Jump in today and, together, we will make a big splash that will create impactful ripples at our Y for years to come!
Gratefully,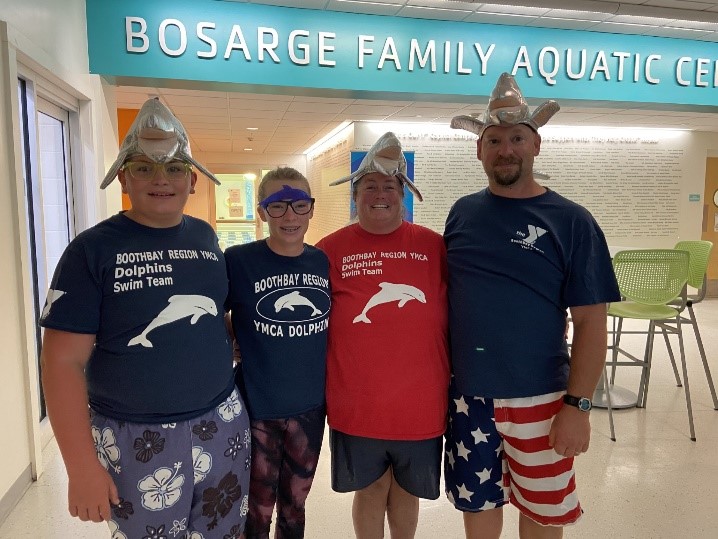 Byran, Mike, Heather, and Hannah Hills, Boothbay Y's 2023 Fundraising Campaign Co-Chairs
All donations are tax deductible