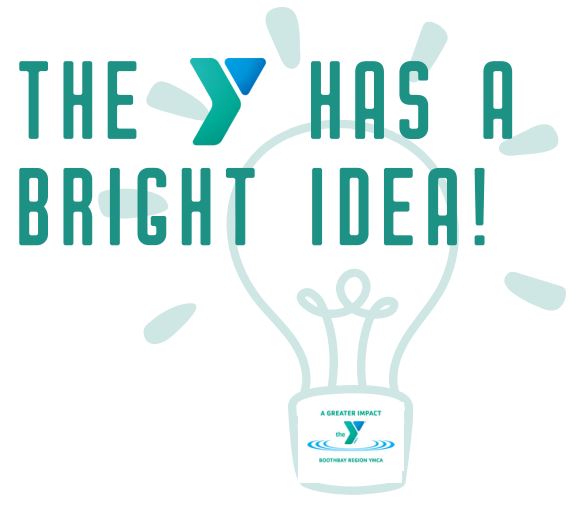 HELP THE Y TURN UP THE LIGHTS!
The Boothbay Region YMCA is engaged in a fast-tracked fundraising project to transform the fieldhouse. We will dramatically improve the fieldhouse LIGHTS, TURN UP the lights in the gym, and replace and BRIGHTEN the fieldhouse courts and replace the track.
Sports Interiors, a racquet sports lighting company, will install and indirect LED lighting system including placement of an insulated white liner in the ceiling to reflect the light which will also improve heating efficiencies.
Maine Tennis and Track will level the entire surface of the fieldhouse and replace it with a professional multi-use floor with colors consistent with USTA standards. The courts will be re-lined for tennis (2 courts), pickleball (8 courts) and will include lines for pick up basketball.
The elevated track will be refurbished and a new rubber sport surface will be installed, the carpeting and bumpers will be removed, and the banked sides flattended to be replaced by fintess areas to increase accessibility.
TIMING
We appreciate our fieldhouse enthusiasts for their patience during the renovations. Here's the schedule:
Gymnasium Lighting Replaced:   
March 13
Fieldhouse Closed for New Lighting, Insulation, and Relining:
March 15 to April 24
Track Resurfaced:
Late May
DO YOU HAVE NAMING OPPORTUNITIES?
Yes! Click here to see a list of naming opportunities and be in touch with Allyson Goodwin, Director of Development, at agoodwin@brymca.org or (207) 633-2855 x290 if you are interested in reserving an opportunity.
QUESTIONS?
Review the FAQ's here or contact Andy Hamblett, Chief Executive Officer at ahamblett@brymca.org or Allyson Goodwin, Director of Development at agoodwin@brymca.org
YOU ARE INVITED TO PARTICIPATE!
You are invited to help the Y TURN UP THE LIGHTS! Make a gift or pledge payable over a five year period. The goal is $450,000 and gifts of all sized are welcome AND WILL BE MATCHED by a generous donor. Give online at www.boothbayregionymca.org/donate or complete a pledge form found here, or use the QR code.
This is Phase II of the A Greater Impact campaign and the Y is excited to raise the funds needed in order to create a BRIGHTER future for our fieldhouse. Give today and let's turn those HOUSE LIGHTS UP!
Want to support the project?
If you are interested in supporting the project and funding a naming opportunity, contact:
Allyson Goodwin at agoodwin@brymca.org or call (207) 633-2855.
Press Releases & Updates:
December 3 Constant Contact Update
January 13 Catalyst for Good Update